Runecast is a leading global provider of a patented, AI-driven vulnerability assessment and cloud-native application protection platform (CNAPP) for IT Security and Operations teams. It helps organizations identify and remediate vulnerabilities, enforce security policies, and automate compliance reporting. Runecast's platform is used by a wide range of customers, including Fortune 500 companies, government agencies, and financial institutions.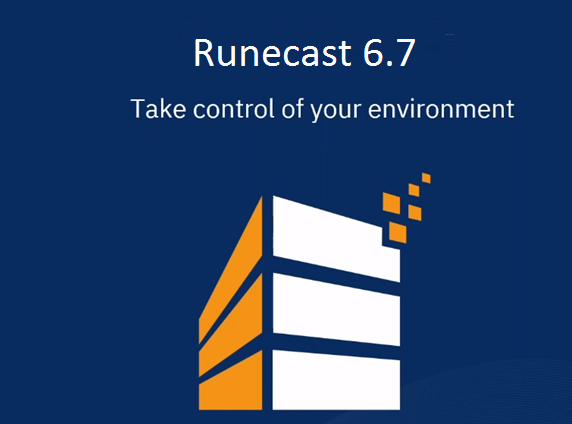 Runecast introduced Runecast 6.7, a major release of workload management, introducing several new features and improvements. This latest release from the Runecast team is set to revolutionize the way organizations approach VMware security compliance.
With its industry-first features and enhanced capabilities, Runecast 6.7 is a must-have for any organization serious about its VMware environment's security.
The Evolution of Runecast 6.7
Runecast has always been at the forefront of enhancing the customer experience in the cyber security domain. Their dedication to innovation and improvement is evident in each product release, which consistently introduces features that not only address current challenges but also anticipate future needs. With the launch of version 6.7, Runecast has once again raised the bar.
DORA Compliance for VMware: A Pioneering Move
Understanding DORA
The Digital Operational Resilience Act (DORA) is a pivotal regulation specifically designed for the EU financial sector. Its primary focus is on Information and Communication Technology (ICT) risk, emphasizing:
Robust risk management protocols
Prompt and transparent incident reporting
Rigorous testing for operational resilience
Continuous monitoring of third-party ICT risks
Runecast 6.7 and DORA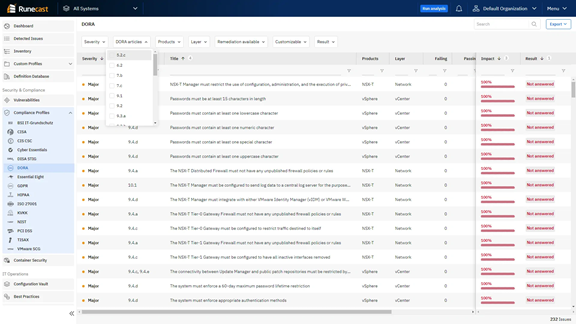 With the introduction of Runecast 6.7, organizations can now avail of a tailor-made solution for DORA compliance, specifically designed for VMware. This feature allows users to:
Conduct a thorough assessment of their environment's adherence to DORA regulations
Identify potential areas of non-compliance
Implement swift and effective remediation strategies
Also Read: Runecast 6.6 Released with Agentless Vulnerability Screening and Runecast SaaS Features
The result is a streamlined compliance process, ensuring successful audits consistently.
Comprehensive DISA STIG Security Assessment
The Importance of DISA STIG
For entities affiliated with the Department of Defense (DoD), including defense contractors and organizations within the DoD Information Networks (DoDIN), achieving full compliance with the Security Technical Implementation Guide (STIG) is imperative.
Runecast 6.7's Approach to STIG
Runecast 6.7 offers a holistic approach to STIG compliance for VMware vSphere 7.0, encompassing all 12 essential sections of the STIG security assessment. This comprehensive coverage ensures that every aspect of VMware vSphere 7.0, from the ESXi STIG to the Appliance Management Interface (VAMI) STIG, is scrutinized and secured.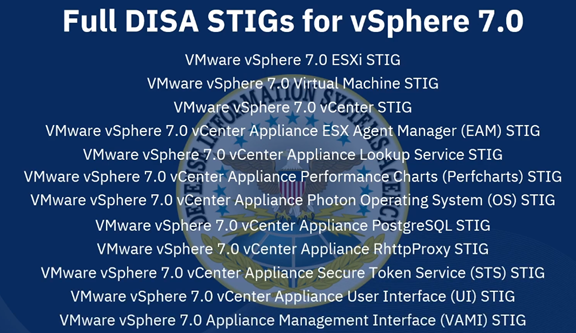 Beyond DORA and STIG: A Suite of Enhanced Features
Runecast 6.7 is not just limited to DORA and STIG compliance. It offers a wide array of features designed to bolster security and compliance across various platforms:
Up-to-date Vulnerability Profiles: Stay informed with the inclusion of recent Ubuntu, SUSE, Microsoft, Linux, and Kubernetes CVEs.
Diverse Security Compliance Profiles: From ISO 27001 for Microsoft Azure to CIS 1.7.1 for Kubernetes, ensure multi-faceted security compliance.
Customization and Remediation Tools: Tailor Linux rules and access remediation scripts for VMware vSphere, ensuring a bespoke security approach.
Benefits of Runecast 6.7
Runecast 6.7 offers several benefits to organizations, including:
Improved security compliance: Runecast 6.7 helps organizations improve their security compliance by providing out-of-the-box coverage for a wide range of security standards, including DORA, DISA STIGs, ISO 27001, Cyber Essentials, HIPAA, and CIS.
Reduced risk: Runecast 6.7 helps organizations reduce their risk by identifying and remediating vulnerabilities and security misconfigurations before they can be exploited by attackers.
Improved uptime: Runecast 6.7 helps organizations improve their uptime by providing proactive monitoring and alerting for potential problems.
Reduced workload: Runecast 6.7 automates many of the tasks involved in managing workloads, such as vulnerability scanning, security compliance reporting, and remediation, which can free up IT staff to focus on other tasks.
Conclusion: The Power and Promise of Runecast 6.7
Runecast 6.7 stands out as a comprehensive solution, offering both complete DORA compliance and full DISA STIG compliance. This ensures adherence to the top 14 security compliance standards that their customers demand. With this, organizations are well-equipped to stay ahead of audits, maintain continuous compliance, and guarantee optimal uptime.
Moreover, Runecast is committed to staying updated. They consistently integrate new vulnerability data and the most recent amendments to existing security standards. This dedication ensures that their users always have the most current information at their fingertips.
Also Read: How to Become a Certified Ethical Hacker: A Comprehensive Guide
The platform's design facilitates rapid access to crucial data, providing deeper insights into potential risks lurking within your environment. Such insights not only speed up the remediation process but also fortify your infrastructure against potential threats.
To truly understand the capabilities of Runecast 6.7 and how it can benefit your virtualized environment, we invite you to contact their team for a personalized demo.